Throughout my travels around Europe one of my favourite things to do is observe the differences between countries – and if you're someone who enjoys a drink or two, many of those observable differences can often be found at bars.
From the availability of beer versus wine to the size of drinks to the closing times, bars can be a great place to see the particular cultural quirks of a society play out. In recent years one area of difference has become increasingly pronounced – who and who does not have a smoking ban. It's a blisteringly confusing patchwork of laws.
Today, the EU announced a move to ban smoking in enclosed spaces across the EU. But as we say in the US, Brussels seems to have shown up a day late and a dollar short.
Amusingly, smoking bans have seemed to follow me as I've moved around the globe. I was in
New York City
in 2003 when one of the first bans in the US began (following California's), which resulted a whole new party atmosphere in the streets that summer as everyone poured out of the bars to smoke (the police were too busy handing out noise violations to enforce the ban at first).
Then just after I had gotten used to having my clothes no longer smell of smoke after a night on the town, I moved to Chicago where I could once again light up in a bar. It wasn't long before that city implemented a ban too, but not matter, because I then moved to Washington DC, which at the time people thought was "too Southern" to ever have a smoking ban.
But they thought wrong, because before long I found myself witnessing yet another smoking ban come into effect. I moved to London and could smoke inside again at first, but in the summer of 2007 that city too
went smoke free
. I moved to Paris shortly after France's smoking ban went into effect, but then moved to
Switzerland
where I could again smoke inside. It was all very difficult to keep track of, and I don't even smoke!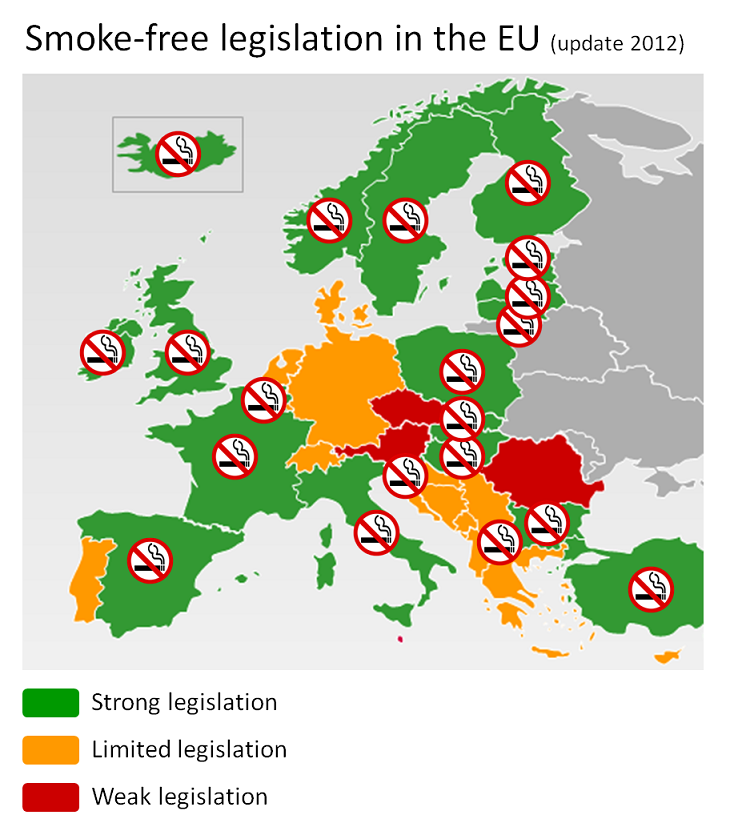 Smoking bans in Europe have developed much as they have in the United States, with a patchwork of different states and municipalities adopting different laws.
England and Ireland have the strictest smoking bans, not even allowing hookah (shisha) pipes to be smoked. Spain and Germany both have a lax patchwork approach that varies state by state. France, Italy, Sweden, Finland and the Netherlands have all adopted smoking bans that allow special designated smoking rooms (I can attest that these hastily created rooms in France are just about the most disgusting things I've ever seen).

As I travel I like to ask people about the peculiar legislative history behind these quirky bans, and oddly I keep being faced with the same remarkably consistent but completely inaccurate assertion: that smoking bans are mandated by the EU. This of course was completely wrong, the EU has never taken any decisions regarding smoking in public places. That is, until today.

This afternoon the European Commission officially called on member states to adopt their own legislation to make enclosed spaces in the EU smoke-free by 2012. The commission likely knows that, like the environment, this is a winning issue with the European public. A recent Eurobarometer survey found that 84% of Europeans favour banning smoking in the workplace, 79% in restaurants and 65% in bars and clubs. The remaining 35%? Funny you should ask, that roughly corresponds to the number of EU citizens who currently smoke (32%). The highest proportion of smokers is found in Greece, Bulgaria and Latvia.

So the EU is riding in on a white horse to save everyone's lungs right? Not exactly. It would be hard to argue that this is anything but laughably too little too late. This is a "recommendation" from the EU, not a directive. It isn't in any way binding, and member states aren't under any obligation to pay any attention to it. The idea that somehow the remaining 17 countries with no smoking ban are going to rush to implement smoking bans in the next two years because the EU has politely suggested it is pretty absurd actually. No wonder today's press conference was met by a collective eye roll at the midday briefing.

It's too little, and it's too late also. It was the member states that took the bull by the horns on this issue, particularly in the British Isles (and soon Bulgaria, which will implement a total smoking ban similar to Britain's shortly). France and Italy can also be commended for being able to implement smoking bans in countries where cigarettes have long been associated with the national character. The EU on the other hand has not been a leader on this issue, and perhaps its no coincidence that you can smoke wherever you want to in Brussels!

Then again, perhaps the EU can't be faulted too much for being unable to force a smoking ban an a widely diverse collection of member states. After all, if Washington hasn't had the chutzpah to do it ("states rights!" they would scream down South), how can Brussels be expected to?

But isn't it curious that everyone I meet seems to assume that any "Draconian" law affecting their personal liberties comes from the EU. Today's announcement from the Commission may not accomplish anything except furthering that misconception.