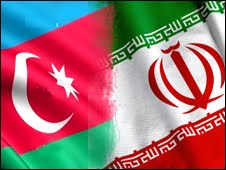 Azerbaijan's close historical and ethnic relationship with Iran is causing discomfort in the lead-up to the Eurovision Song Contest final next weekend, hosted in Baku. Last week angry Iranian demonstrators, probably government-organised, surrounded the Azerbaijani consulate in Tabriz condemning the country for hosting a 'gay contest'. 
This week a Eurovision news website was attacked by Azeri hackers in protest of Eurovision, which they said was a "gay pride event". It is not yet known whether these were Azeris in Azerbaijan or Iran - but the later is more likely.
The contest organisers have appeared unsure of how to respond to the protests. Eurovision is, after all, not actually a "gay event" as the Iranians have claimed. But it is true that it has a large gay following, and there has been concern about the safety of the many gay fans who will be converging on Baku this week for the show.
Azerbaijan, as is evident from its flag, is a Muslim country. But given that the former Soviet Socialist Republic is largely secular, it has been a matter of speculation whether this would cause problems for gay fans (homosexuality was decriminalised in the country in 2000, in order to join the Council of Europe). Turkey, another Muslim but nominally secular country, hosted the contest in 2004 without incident.
But interestingly, much of the religious-based resistance to the hosting of the conference has come from neighbouring Iran, where the majority (3/4) of the Azerbaijani people live. Iran's population is 30% Azerbaijani.