The eurocrisis has introduced a plethora of strange words into our everyday vocabulary: 'Contagion', 'technocrats', 'moral hazard', 'austerity' and of course the derisive description, 'transfer union'. This last term is used by those in Northern Europe who warn that bailing out the economies of Southern Europe will lead to a European Union where money steadily flows from rich states to poor states and the North loses out. Many argue that, in fact, this is what the EU has always been.
Such feelings are at the core of the German public's resistance to the Greek bail-outs – emotions that have turned what is normally one of Europe's most pro-EU countries into a relatively more eurosceptic place these days. "Why should we work hard just to see our money flow to lazy people in the south?" some Germans are asking.
Their resentment is fueled by charts like the
interactive diagram
below, found in the Guardian newspaper's new
'Europa'
section (a truly fantastic project with five other papers that I'm very excited about). It shows which countries are net 'payers' into the EU, and which are net 'receivers'. The statistics are familiar and often brought up when people talk about the European Union – the biggest recipients of EU funds are in Southern and Eastern Europe while the biggest contributors are in Northern Europe.
So yes, it is an observable fact that Germany pays in more than it gets out. And it is an observable fact that Germany has a higher GDP than its Southern neighbours, that it produces more and has a much healthier economy.
But how did the German economy get to this triumphal position? A lot of Germans seem to forget that in the 1990's their economy was a mess – mass unemployment, record low industrial output and difficulties integrating East Germany into the economic system. All of that changed starting in 1999, when Germany's output started to skyrocket and its economy boomed. And what happened in 1999? The euro was born.
Suddenly Germany had access to the largest developed market in the world, millions of new consumers to buy German products which the thrifty domestic market had hesitated to buy, with no exchange rate fees or complications. Germany was given unfettered access to the legions of Southern Europeans who were eager to buy well-made German products.
So when some Germans say they want to abandon the Euro because they don't want to share their success with people who haven't worked for it, they forget that it was the euro itself that spawned that success.
After all, that is the nature of a large federal union. There are going to be richer, more prosperous and more industrious states that support less prosperous states. The trade-off is that those prosperous states get access to a large market, from which they draw the wealth that they then have to share in order to sustain that market.
What about America?
I was thinking about this last week when this chart of US state net payers and net payees was circulating around the internet.
Normally the issue of the wealth of the coastal states flowing to the interior and Southern states is not something that is ever discussed in the US. It's just taken as a given – people in the prosperous Northeast and West Coast accept the fact that much of their federal tax money is not going to go back to them but is instead going to go to supporting the poorer states of the union. That itself is not an issue.
The grievance that resulted in this chart being circulated last week is that the political dynamic is so bizarrely skewed from the reality shown in this chart. In today's political climate it is the prosperous states with higher levels of education that consistently vote Democratic, and it is the poorer states with lower levels of education that consistently vote Republican (the so-called "blue states" and "red states", named after the colours they are given in election results). What has a lot of Democrats annoyed is that paradoxically it is Republicans and Republican voters who are complaining about 'socialism' and 'redistribution of wealth', insisting that everyone should be made to stand on his own two feet – even though it is the red states and their residents who are the biggest recipients of social aid.
But this resentment from Democrats, while a valid point, isn't the subject of this blog post. My point in bringing up this chart is simply to point out that this is how a federal union works – there is an inherent trade-off. The prosperous states support the less prosperous states - who produce less for geographic, cultural or historic reasons – in exchange for having unfettered access to their markets so they can sell them things. And of course there are also cultural benefits to being in a union with these states as well - think about all the contributions these states have made to US culture.
Those of us from the prosperous states don't gripe about being in a 'transfer union' – in fact I don't think I've ever heard anyone bring this up. The reason this chart was being circulated wasn't because the prosperous state residents want to secede from the less prosperous ones – they just want their less prosperous neighbours to get a grip on reality.
Now many people say the reason this federal model won't work in Europe is because Europeans don't have solidarity with other Europeans if they are from another member state. In the US, people feel 'American' before they feel significant identification with their state. In fact, most states don't even have adjectival forms for their residents (can you be a Connecticutian? A Michiganer? These words aren't used). This wasn't always the case – 150 years ago Americans identified more strongly with their state than with the federal union. But because we're all Americans now, someone from Connecticut doesn't feel like someone from Alabama is a 'foreign' person or some kind of 'other'.
In Europe this quite obviously isn't the case. Few people outside of the Brussels bubble would identify themselves as a "European". They identify with their member state. This aspect of the European project, fostering a 'European identity' among citizens, has failed – despite 50 years of effort. So it's hard to get a Swede to feel a sense of obligation and solidarity to help their European brethren in Greece.
What about India?
But just because a European identity hasn't been created so far, does this mean it's impossible? The Eurosceptic argument assumes that such solidarity would never be possible in Europe because these countries speak different languages and have relatively different cultures, unlike the American states. But to me this argument doesn't hold up if you look at the other major federal union – India.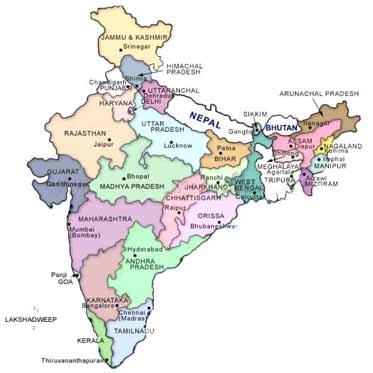 When it was created in 1947, the new union of India brought together disparate states which speak different languages, have different histories, different religions, and had existed as independent states for hundreds of years before the British loosely united the subcontinent in the 19th century. Many Indians consider the Dravidians in the South to be an entirely different race. Yet India is a model federal democracy. Few people would say India can't work and shouldn't exist because its peoples are so different and speak different languages. So why do they say that about Europe?
India also has its prosperous states which pay for the poor states – and this imbalance between states is far greater in India than it is in Europe. But try telling an Indian living in New Delhi that being able to sell to a market of 1 billion people isn't worth the sacrifice of seeing wealth transfer from rich Delhi to poor Calcutta. They would laugh at you.
Undoing nationalism
So what's the difference between the Indian situation and the European one? Some of it is, frankly, arrogance. Europeans have a tendency to think their history and culture is far more important than the history and culture of people in Africa and Asia because their history was less recorded.
But more importantly, Europe in the 19th century was the birthplace of nationalism – the creation of nation-states linked to 'peoples'. The height of nationalism - which gave birth in the 19th century to brand new states which had never existed before like Germany, Italy and Greece - drilled these new national identities into people's heads. In order to solidify these new states, rigid cultural and linguistic conformity within the sometimes arbitrarily drawn borders was enforced through language bans, expulsions, population transfers and - above all – national education programs.
Europeans have spent the last century being taught that their individual nation is a distinct 'people', an entity which has existed for hundreds or even thousands of years and should strive for independence above all else. Indians never experienced this period of nationalism. Under the British raj, inclinations toward regionalism were discouraged for obvious reasons. And once the Indian state was created a national identity had to be created – largely through Hindu nationalism that played up religion and played down racial divisions between Aryans and Dravidians.
So 150 years of nationalistic education is hard to undo, especially when European countries have still not begun teaching students the basic principles of how the EU works. But it's not impossible. Europe was not always this way – divided into tiny nation states where people saw themselves as fundamentally different from their neighbours. This is a creation of the modern world. If nationalism can be untaught, if Europeans can be made to see the economic benefit of a united Europe, then maybe some day the EU can get to a place where it seems natural for wealth to be transferred from Germany to Greece, just as it is transferred from New York to Alabama.