It's that time of year again. The stockings are being hung by the chimney with care, the hot wine stands are setting up shop, and of course, the Dutch have begun putting on their blackface, big red lips and afro wigs. It's time again for 'Black Pete' to pay us a visit.
And right on cue, it's also time for the perennial hand-wringing about whether or not this minstrel character, who tags along with Saint Nicholas as he hands out presents to Dutch and Flemish children at Christmas, is racist.
But this year, thanks to some comments by a human rights observer, the debate has taken on an almost frenzied dimension that has even seen a prominent Dutch politician call for the
Netherlands
to
pull out of the United Nations
.
The Dutch are furious that a member of the UN's human rights committee is looking into the issue of whether Black Pete is a racist caricature. The head of the committee, who is Jamaican, told a Dutch TV station she found it impossible to understand how Dutch people do not see it as racist. Dutch people have responded with a torrent of outrage, accusing the UN of trampling on something that is an age-old tradition and is culturally important to them. A petition organised to
'save Black Pete'
gathered a million endorsements in its first day.
News broadcasters
are dressing up as Pete in protest, and Dutch people are making YouTube videos dancing around in blackface singing about how
not racist
they are.
As an American living in
Belgium
I have had to live with the bizarre spectacle of seeing people black themselves up at Christmastime for four years now, and to be honest it has never stopped seeming grotesque. The arguments I hear that the practice must be continued because it is tradition have never reassured me. Not all traditions are worth keeping. After all, in the
United States
we stopped doing
minstrel shows
decades ago, even though they were a central part of American culture for 100 years (Amos and Andy and Mickey Mouse trace their origins to these shows). But more on this later.
Slave or chimney-sweep?
So, who is this guy anyway? A 'Zwarte Piet' is a companion to Saint Nicholas in the low countries (Belgium and Holland) somewhat similar to Santa's elves in the United States. The origins of the character are obscure but are most likely a low countries variant of the 'demonic' character that accompanies St. Nick in other European countries (for example
Knecht Ruprecht
in
Germany
). In the low countries this developed into a Moorish (North African) servant who was responsible for the organisation of gifts.
There are other theories about the character's origins. Other historians have said the character developed in the 15
th
century as an
African child slave
, someone many wealthy Dutch people would have had in their household at the time.
One thing all serious historians agree on is that the explanation now sometimes used by Pete's defenders, that Zwarte Piet is black because he is covered in soot from going down the chimney, is modern historical revisionism. Aside from there being no documented association with Piet and chimneys until recently, this explanation also does not account for the afro wig and big lips that the character wears.

Resist the black helicopters
Dutch people are very attached to this character, and surveys have shown that the revulsion of the outside world has only hardened their attachment to this tradition. Opinion pollster Maurice de Hond found that
91%
of Dutch people oppose any efforts to change Piet's appearance (for instance by removing the wig and lips). In
Amsterdam
,
Holland
's most racially diverse city, 65% oppose such efforts.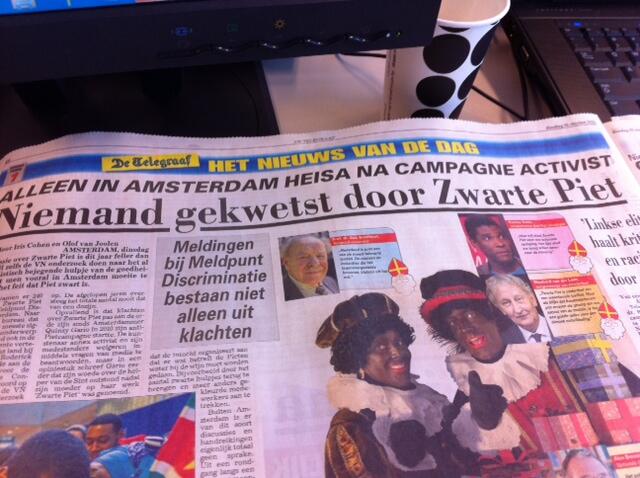 For the Dutch and Flemish, the issue has come to be seen as outsiders coming in and telling them what to do, attacking their heritage and their traditions. But despite the stories spun by
Geert Wilders
and some of the right-wing Dutch media, (which has reported the story as 'the UN is going to outlaw Zwarte Piet'), nobody is going to
make
the low countries stop this tradition.
It's a decision the Dutch have to arrive at for themselves. They may not see dressing up as Piet as racist, but certainly by now they are aware that people outside of the country do. If they are content to look like racists to the outside world, then so be it.
But, in my humble opinion, white Dutch people should really think long and hard about what makes them so sure this character isn't racist, and what makes them think it's up to them to decide. They may not see the harm, because they've grown up with the character and see it as normal. But try imagining exchanging 'Zwarte Piet' with a character named 'Ching Chong Chinaman" who features exaggerated squinty eyes and big buck teeth.
Would you defend that? Because that is exactly how this looks to someone encountering this tradition for the first time.
Just stop to think, for a second, how you would feel if you were a racial minority which has suffered from oppression and mistreatment from the majority for centuries. Then imagine that majority dressed up like you, donning costumes that exaggerate your physical characteristics, and laughing at how silly they look. Hilarious, right? Not so much.
Moving on from the minstrels
In the
United States
we had a similarly distasteful racial caricature that was at the heart of our traditions and culture not so long ago:
minstrel shows
. The shows, where white people dressed up in black face and lampooned black people as buffoonish, lazy and musical, rose as "the first distinctly American theatrical form" in the 1830s and 1840s. By the late 19
th
century they had become the main national theatrical art of the time, and we also exported to
Europe
as 'American theatre'. Some of the famous acts to come out of these shows from the early 20
th
century include Amos and Andy, and even the early Mickey Mouse cartoons were designed with the archetypes of minstrel shows.
However with the advent of the civil rights movement, people started to realise how distasteful these performances were, and they fell out of fashion. A theatrical form that was at the heart of early American culture has now been almost forgotten. And when people do speak of it, they don't speak of it fondly. The legacy of minstrel shows is what makes black face so controversial in the
United States
.
Some European countries who imported the minstrel show tradition were a bit late on getting the memo. In the
UK
, the
'Black and White Minstrel Show'
continued to run on the BBC until 1978. Eventually, however, decency prevailed and they stopped.
The point is that whether or not you personally think this practice is offensive is kind of not the point. Just because something is 'tradition' does not mean it is beyond reproach. Beyond being offensive, dressing up in a grotesque caricature of another race is just daft – in any context.
Of course everyone is vulnerable to this 'tradition' argument. Though they did make the right call by ending minstrel shows, Americans still cling to a number of sports team names and mascots with offensive Native American names. The Cleveland Indians, have a grotesque mascot of a grinning
'Chief Wahoo'
and
Washington Redskins
fans still do the 'tomahawk chop'.
These two teams are becoming increasingly indefensible, and just this week satirical newspaper
The Onion
pointed out the absurdity of defending them by using an equally archaic racial epithet for Jewish people to describe the Redskins owner. This has ignited its own storm of controversy.
Many American find the Redskins team name offensive. But I can only imagine the reaction if the UN came out with a report condemning the team name. Every red-blooded American would be screaming their lungs out defending it, even those people who had no opinion on the issue before.
These types of issues have to be solved by the people themselves, it can't be forced. I have faith that, eventually, the Dutch will make the right decision.